A journey to fifty shades of blue
The underwater world – with its abundance of enchanting flora and fauna – is a universe of its own. The best way to discover this world is through sailing. All you need for this journey, in which you will immerse yourself in every shade of blue amongst virgin waters, is a yacht from Exclusive Gulets.
Being in great demand recently, the blue journey is an adventure to undiscovered waters and maiden rocks. The water is not the sole hero of this adventure either. As you witness natural wonders in this blue dream, you'll get to experience everything you can expect from a holiday with the immaculate service of Exclusive Gulets.
Throughout the blue journey, everything is handled thanks to numerous alternative boat options, some of them with interior design awards as they offer comfort and convenience in every step of the way.
Offering more than what you expect from a luxury hotel with its luxurious and spacious VIP suites, lounges with state-of-the-art technology, baths furnished with wood and marble, steam rooms, Jacuzzis and sports activities on deck along with special sections with menus prepared according to international cuisine or personalised preferences, you can sail to an enjoyable holiday on your own or with a guest group at Exclusive Gulets.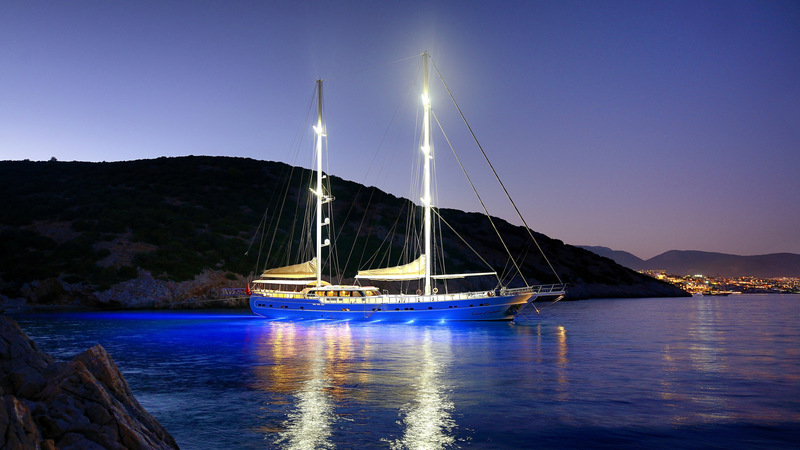 With different boat alternatives, each one being more extravagant than the next, as well as many different routes, these boat tours open the door to an unforgettable holiday in world-famous coves, located in Turkey, the homeland of blue. Not only the mesmerizing sea but also some popular destinations in Turkey such as Bodrum, Marmaris and Göcek. Their dreamy islands, historical artefacts that include one of the seven wonders of the world, enchanting buildings left from centuries ago, lively nightlife, world-famous restaurants, and fun shopping districts offer more than just a blue journey.
This dream is not limited to Turkey either. With the same holiday concept, you can experience Greece with its antique cities and lovely islands, Croatia with its impressive Medieval islands and bright Dalmatian Coasts, Italy's Amalfi Coast with its wonderful hills and bougainvillaea filled streets along with beautiful scenery worthy of a spot in UNESCO World Heritage List are available for a relaxing holiday spent in the sea along with numerous beautiful coves and natural beauties.
Find out more
For a wide range of comfortable and quality holiday of a perfect blue journey where every detail is taken into account, all you need to do is get in touch. One of our friendly charter consultants will be more than happy to present many different alternatives of boats, each more lavish than the other, along with different route and price options.
---
Create your own experience
Create your own experience!
Perfect Location Matches Perfect Experience
Perfect location and the perfect yacht for your ultimate charter experience. There is no better way than chartering a luxury gulet or yacht to see more of the world. With two third of the Earth covered in water, there is always a new exciting destination to explore and a different shoreline to discover.​